Recommended Resource: Assured by Greg Gilbert

On this Monday, we'd like to recommended another excellent book to you: Assured by Greg Gilbert. As you're home maybe a little more, and a little longer during this quarantine, this small book will encourage and deepen your love for Christ.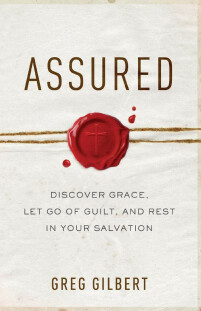 We often get the emphasis wrong when we think about our salvation in Christ. We tend to place trust in our own power to live a life pleasing to God; or we doubt whether we really know God at all as we consider sin in our lives. In fact, we often avoid repentance because we fear that once we start identifying any lingering sin we'll convince ourselves that we're not really saved.
Greg Gilbert clarifies all of this in Assured. There's encouragement here for the the Christian trusting too much in good works, and encouragement for the doubter who needs to know God really does love them. And a clear test and call for someone who has thought they're saved but really isn't.
Here's one of many great quotes by Gilbert:
"The blood of Jesus doesn't barely sneak us into the presence of God; it actually gives us every right in the universe to be there - and to be there with confidence and joy [...] Our confidence that we belong in the presence of God is not self-confidence; it's Christ-confidence" (30).
Please give this book a read. It's much needed, especially during this quarantine and as we wait for news about stay-at-home orders. May a benefit of all this be an increase in our Christ-confidence!