A Evening with Al Mohler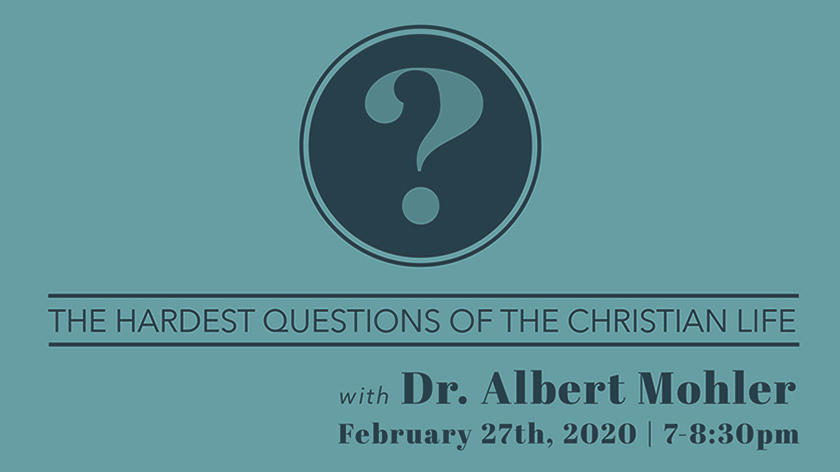 Thursday, February 27, 2020, 7:00 PM - 8:30 PM
In an age where believers are facing increasing opposition to the Gospel, come and be challenged and encouraged as we hear from Dr. Albert Mohler as he addresses some of the Hardest Questions of the Christian Life. There is no cost to attend this event.
About Dr. Mohler
Dr. R. Albert Mohler Jr. serves as president of The Southern Baptist Theological Seminary – the flagship school of the Southern Baptist Convention and one of the largest seminaries in the world.
In addition to his presidential duties, Dr. Mohler hosts two programs: "The Briefing," a daily analysis of news and events from a Christian worldview; and "Thinking in Public," a series of conversations with the day's leading thinkers. He also writes a popular blog and a regular commentary on moral, cultural and theological issues. Called "an articulate voice for conservative Christianity at large" by The Chicago Tribune, Dr. Mohler's mission is to address contemporary issues from a consistent and explicit Christian worldview.
Dr. Mohler is a theologian and an ordained minister, having served as pastor and staff minister of several Southern Baptist churches. Widely sought as a columnist and commentator, Dr. Mohler has been quoted in the nation's leading newspapers, including The New York Times, The Wall Street Journal, USA Today, The Washington Post, The Atlanta Journal/Constitution and The Dallas Morning News. He has also appeared on such national news programs as CNN's "Larry King Live" and "AC360," NBC's "Today Show" and "Dateline NBC," ABC's "Good Morning America," "The NewsHour with Jim Lehrer" on PBS, MSNBC's "Scarborough Country" and Fox's "The O'Reilly Factor."
He is also the author of several books, including We Cannot Be Silent: Speaking truth to a culture redefining sex, marriage, & the very meaning of right & wrong; Conviction to Lead: 25 Principles for Leadership That Matters; Culture Shift: Engaging Current Issues with Timeless Truth; and Words From the Fire: Hearing the Voice of God in the Ten Commandments.
Dr. Mohler is married to Mary, and they have two children, Katie and Christopher. In 2015 Dr. and Mrs. Mohler welcomed their first grandchild, Benjamin and in 2018 their second grandchild, Henry, both born to Katie and her husband Riley.