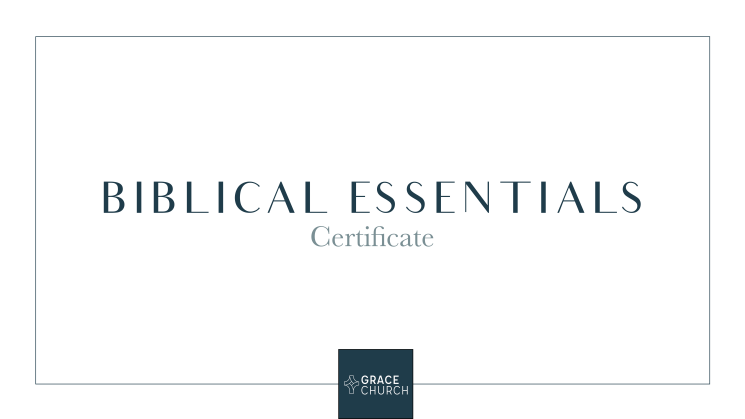 When Jesus first called his disciples, his words were, "Follow me, and I will make you fishers of men" (Matthew 4:19). He spoke of two roles—following him and calling other people to follow him—and we want our church family to be marked by these two commitments. People who follow Jesus are people who love him, who enjoy spending time with him, who know his teaching and pattern of life, and who seek to live according to his will. They also understand that this commitment must not stop with them. Like their Savior, they invest time with others and say to them, as Paul wrote in 1 Corinthians 11:1, "Imitate me, as I imitate Christ."
The elders and pastors of our church are committed to doing everything we can to equip you to do these things. With that in mind, we are pleased to announce the launch of the Grace Essentials Certificate. Participants in this year-long program will study God's Word from cover to cover. Experienced teachers will help you engage your mind in the study of Scripture and theology, all with the purpose of engaging your heart to know and worship God and participate in his mission for the world.
We heartily encourage you to consider taking part in this opportunity.
Details:
The Biblical Essentials Certificate is granted to those individuals who complete ten total courses in Old & New Testament Surveys and Theology.
Courses are offered over five terms on Thursday evenings during the school year at Grace Church of Simi Valley. Individuals are encouraged to complete the Certificate Program over the course of a single year, but courses can also be registered for by individual term.* Terms are six to seven weeks long, with two courses offered in each term.
Term 1 (9/5/19 - 10/17/19): Old Testament Survey 1 & Theology 1
Term 2 (10/24/19 - 12/12/19): Old Testament Survey 2 & Theology 2
Term 3 (1/9/20 - 2/20/20): Old Testament Survey 3 & Theology 3
Term 4 (3/5/20 - 4/9/20): New Testament Survey 1 & Theology 4
Term 5 (4/23/20 - 5/28/20): New Testament Survey 2 & Theology 5
Questions? Email us at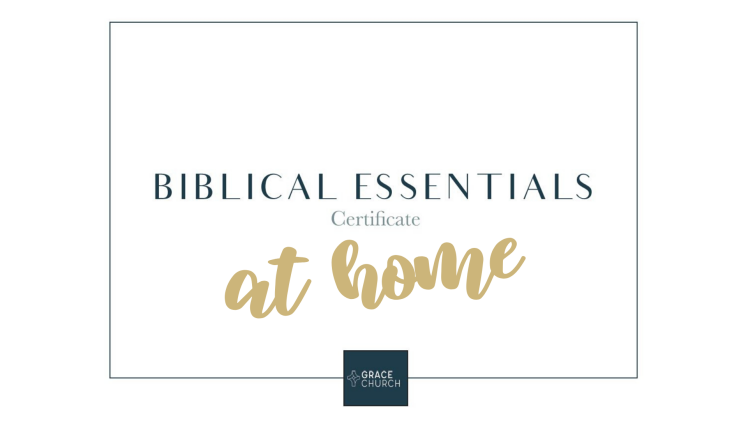 Thursday, June 4
Bible Survey, Class 8
Systematic Theology, Class 4
---
Thursday, May 28
Bible Survey, Class 7
Systematic Theology, Class 3
---
Thursday, May 21
Bible Survey, Class 6
Systematic Theology, Class 2
---
Thursday, May 14
Bible Survey, Term 5, Class 5
Systematic Theology, Term 5, Class 1
---
Thursday, May 7
Bible Survey, Term 5, Class 3
Bible Survey, Term 5, Class 4
---
Thursday, April 30
Bible Survey, Term 5, Class 1
Bible Survey, Term 5, Class 2
---
Thursday, April 23
Bible Survey, Term 4, Class 6
Systematic Theology, Term 4, Class 6
---
Thursday, April 16
Bible Survey, Term 4, Class 5
Systematic Theology, Term 4, Class 5
---
Thursday, April 9
Bible Survey, Term 4, Class 4
Systematic Theology, Term 4, Class 4
---
Thursday, April 2
Bible Survey, Term 4, Class 3
Systematic Theology, Term 4, Class 3