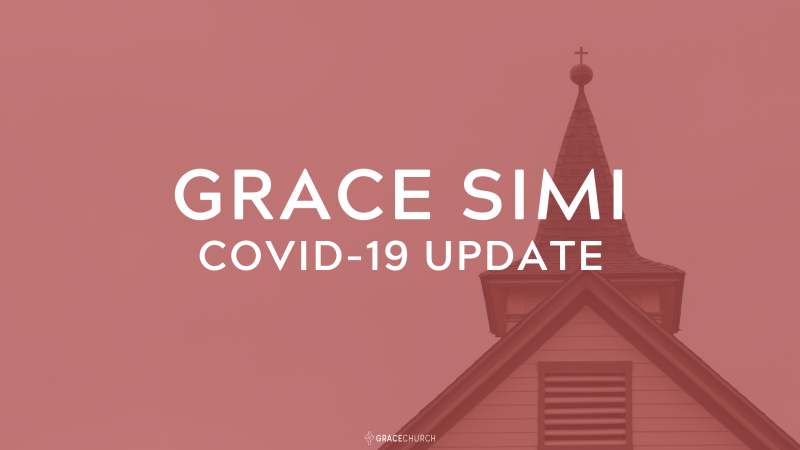 March 17, 2020 - 12:45pm
Dear Grace Family,
In our desire to move forward wisely as a church body, we have determined that the best course of action is to put our gatherings at a church on hiatus through March 31. Our desire is to be loving to each other and all in our community to help stop the spread of this virus by being thoughtful to the requests of our governing officials. This means that both Shepherding Groups and corporate gatherings on Sunday will be paused for these two weeks. As the days unfold, we will continue to make decisions consistent with Biblical principles, based on the best information available, and that seeks to provide the best care for those in our church. Here are a few things to be aware of:
We will still provide a time of Sunday worship, but it will be by video – Meeting face to face in fellowship is vital to our Spiritual health and growth. However, though we will not be able to do that temporarily, we want to be able to connect through prayer, song, and God's Word. Our staff will be putting together a time of worship that you can engage in at your homes on Sunday morning.
We will seek to communicate with you – If you are in a Shepherding Group, your leaders will be contacting you soon to both communicate and listen. We want to be able to know and meet needs as they arise, so staying in contact is paramount. If you are not in a Shepherding group, one of our elders or staff will contact you to see if there are any needs we can meet and to make sure communication lines are open.
We will still function as a church – Though our venues of worship and fellowship may change temporarily, we are still going to operate as a church. We are going to pray for each other and our world. We are going to be fervent in our love for each other. We are going to seek to fix our eyes on Christ, trusting Him in everything, especially the unknown. It's fascinating that we started the year with the words PRAY – PLAN – RISK at the forefront of our minds. In this, nothing has changed, except the circumstances. Let's continue to seek and glorify God in prayer, plan how to best serve one another, and consider the measure of risk that will take.
We will send our some form of correspondence daily, through written and video formats. Our desire is to care for you even if we cannot see you in-person each week. Do not hesitate to contact us ( OR via our office phone or social media platforms) if you need to talk with someone or have any type of physical need. I would ask that we all practice patience and graciousness with each other during this time of uncertainty. We can sleep well tonight knowing that God will not slumber or sleep (Psalm 121:4).
In Him,

Pastor Jordan Bakker
March 16, 2020 - 4:30pm
Dear Grace Family,
I wanted to update you all about our gathering yesterday. We spent some time in usual things: singing, mingling, and even eating donuts, but recognized the unique setting of the morning. We spent time praying for our missionaries and hospital workers, for government officials and families in our community. We were much more cognizant of social distancing in an attempt to love each other well. We also spent time in God's Word gearing our minds and hearts around the confidence we have in our God. Here are the points that we majored on:
The fear we experience is real – The Bible addresses these real feelings and thoughts in Psalm 56:3-4
Fear comes from wrong thinking and a loss of control – Fear reveals the source of who is in control, or who we think is in control
Fear, left unchecked, can lead to panic – We want to operate in wisdom: "Trust God and wash our hands", and not allow our fears to spill into irrational behavior stemming from a desire from self-preservation.
To think rightly and counter our fears, we commit to believing:
God is in control, we are not, and that is good (Isa. 41:10; Psalm 46:1-3)
Let Scripture tether and comfort us, not the news (Rom. 12:2)
We are not alone (Psalm 23:4; Rom. 12:10)
Eternal security is a real thing (Col. 3:1-4)
The Gospel gives us real opportunities to care and love people (1 John 4:7-18)
I'd encourage you to look through these Scriptures on your own, as well as listen to the podcast or watch the video on Facebook. It's pivotal in these times that we think Biblically, and show tangible love to each other. I'd challenge each of us to spend time in Scripture each day, to limit our intake of news and social media, to spend time with our kids, and seek to have Christ centered conversations with each other. This is a time to listen to people and comfort them with the supernatural comfort that only comes through Christ:
Rejoice in the Lord always; again I will say, rejoice. 5 Let your reasonableness be known to everyone. The Lord is at hand; 6 do not be anxious about anything, but in everything by prayer and supplication with thanksgiving let your requests be made known to God. 7 And the peace of God, which surpasses all understanding, will guard your hearts and your minds in Christ Jesus. Philippians 4:4-7
We'll continue to monitor the situation and will be in contact throughout the week with updates as appropriate and necessary.
In Him,

Pastor Jordan Bakker
March 14, 2020 - 1:45PM
Dear Grace Family,
Believing that we are still in compliance with the mandate of our state to limit gatherings of 250 or more and willing to practice reasonable social protocols (washing hands, keeping distances, etc), our elders have concluded that we WILL still gather tomorrow morning at our regularly scheduled times (8:30 and 10:30am). This will be modified as a family Sunday. Let me point out a few important things:
We recognize a significant portion of churches in our area are NOT holding services - We respect and appreciate the faithful churches in our area, and gladly affirm whatever decision they have made. We are confident in holding services, but neither of these decisions was an easy choice.
We think it's important to gather, but please do not come if you are not comfortable doing so - There are no heroes in showing up at corporate gatherings. If you believe the best decision for your family is to stay home, please feel every freedom to do so.
We will comply with any mandate that changes this decision - If something changes, either in the next day, or next week, we will adjust accordingly. We want to be good citizens as well as love our neighbors, so we do not want to be cavalier in any decision.
We will pray, sing, and hear God's Word - Tomorrow's gatherings will be focused on praising God, focused prayer, and thinking Biblically in a crisis. It will be a bit shorter (and all God's people rejoiced!) and tailored to what is going on around us.
Gathering together does not make us a church. We ARE the body of Christ. And even if we CANNOT meet in the future, we will not hide and will strive to love each other in Christ. But we believe it important to gather when we can and to continue what we do each week, which is worshiping God in light of the resurrection of Jesus Christ. May God bless you whether we see you tomorrow or not. We love you all.
In Him,

Pastor Jordan Bakker
March 13, 2020 - 1:30PM
Dear Grace Family,
As I am sure you are doing as a family, we are also monitoring the rapid changes in our community as we seek to navigate this global situation regarding COVID-19. We will evaluate each day (and often each hour) and try to pass along information regarding our meeting on Sunday.As of today, we will still meet at the normal times on Sunday (8:30 and 10:30am), but we will NOT have normal kids Sunday School classes, and instead have a family Sunday format, with child care offered from Kindergarten on down, but will invite the rest or our students and children into the main service.
Listening to people in our community, it is clear that what we all need is to remind ourselves of the truth, that God is sovereign, good, and in control. When we lose a sense of control, whether it's the ability to go to work or buy toilet paper, fear can quickly set in. When fear sets in, panic and irrational behavior can easily follow. Gathering on Sunday will be a time to pray, hear from God's Word, and remind ourselves that we are not alone. Since we are called to isolate because of this virus, we are more prone to listening to what is false and lose a sense of community.
By way of encouragement, if you do not feel comfortable gathering, please feel free to stay home, especially if you or one of your loved ones is either currently sick or has a existing condition making them more prone to further illness. We never operate out of guilt, but I do want to encourage all of us to walk by faith and trust in the Lord. We will make the message from Sunday available either way, whether you are able to join us or not. Remember, God is NOT caught off guard by any of this, and is working all of this for His glory and our good (Rom. 8:26-30).
We will update you regularly and as more information becomes available.
In Him,

Pastor Jordan Bakker