Grace Student Ministry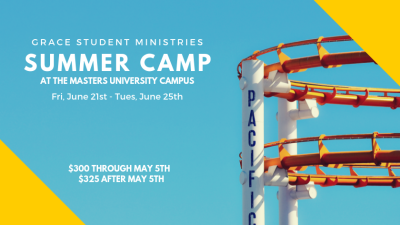 $300 until May 5
$325 after May 5
Summer camp this year will be at The Masters University campus in Santa Clarita, CA! Camp is always a wonderful time away to be with our friends and deepen our walk with God. We are excited for a time of serious competition and discipleship. We will also be joined by students and staff from Grace Rancho and Calvary Burbank. Our special speaker will be Wagner Floriani who is the Discipleship Coordinator at Grace Baptist Church in Santa Clarita.
Camp dates are Friday, June 21st through Tuesday, June 25th.
Camp will officially end after breakfast on Tuesday morning, but we are offering an optional day at Magic Mountain at an additional group rate cost.