Grace Student Ministries has four main goals for our students: to teach them to love the Word, love the gospel, love the church, and love the lost.
We want students to:
Love God's Word. We want to cultivate a love for the Word of God, a desire to master it and be mastered by it. We know that unless the Word guides the life, there will be no stability. Dusty Bibles make dry hearts.
Love the Gospel. Simply knowing the Bible doesn't save anyone. And so we not only want to point our students to the written Word, but we want to point them to the Incarnate Word, Jesus Christ. We aren't aiming for our students to become moral; we're praying that they encounter the glory and majesty of Jesus Christ and his gospel.
Love the Church. All Christians filled with the Spirit have a new desire to gather together. So they do-- and it's called a church. Grace Student Ministries doesn't want to lead students away from the church, but further up and further in.
Love the Lost. We desire to see the lost saved. And we pray that our students will grow in their desire to see God save sinners. We want a culture of evangelism and discipleship to develop in our ministry.
For more information, please contact Danny Lee or call (805) 582-4300.
Meeting Times
Sunday mornings at 10:30AM in the Chapel - Jr./Sr. High Students
Wednesday nights at 6:30PM in the Chapel - High School Students
Sunday nights at 6:30PM in the College Room - Jr. High Students
Summer Camp 2018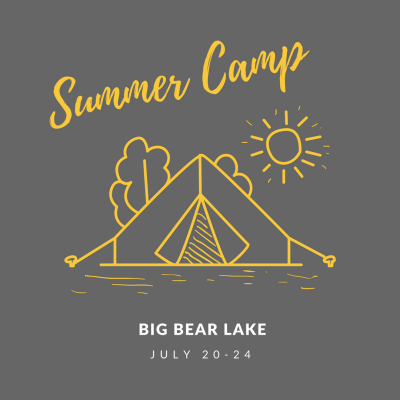 Summer Camp for all Jr. & Sr. High students is back at Big Bear Lake Christian Conference Center. Located next to Big Bear Lake the camp includes swimming, canoeing, playing fields and a variety of games to play. We'll have 5 days to spend together focusing on and being challenged in God's Word, while having fun together. The cost is $300. Take advantage of the "Early Bird" registration for $280 until June 13. Don't miss the highlight of our year at Summer Camp in Big Bear!