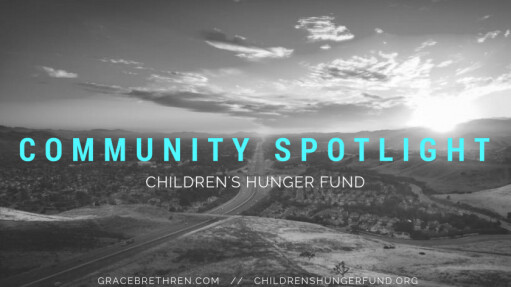 A few times a year, we want to bring to light our community partners. Who they are, what they do, and how we can help. Community Partners are just that - organizations that we partner with right here in our local community.
From February 1-25, both Grace Church and Grace Brethren Schools will be supporting Children's Hunger Fund. Children's Hunger Fund's base of operations is right in our backyard in Sylmar, CA. They serve the suffering children of our world through gospel-centered mercy ministry. To date, they have distributed more than 1 billion dollars in food and other resources to children in the U.S. and around the world.
We invite you to join us in supporting CHF in a very tangible way. We are hosting a Food Pak DRIVE.
Families can pick up a Food Pak box from any campus location (church or school) and fill them with nutritious, non-perishabe, staple foods like rice, beans, pastas and canned goods. These boxes are then shipped out and delivered to families in need.
If you have any questions, please contact the church office at (805) 582-4300.